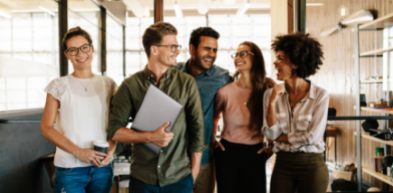 Our growing AET team
Interests and information processing
Individual staff development
To support our continued business expansion, we are pleased to announce a number of exciting new additions to the AET team.
Tracy Stephenson is our new Programme Manager North. She has extensive knowledge and experience of the education and charity sectors. She supports our partners in Northern England and welcomes enquiries from anyone interested in joining our community of delivery partners. Tracy is a keen motorcycle rider and is planning to ride all the way to France and back this summer – oh la la!
Nora Gardiner is our new Marketing and Communications Co-ordinator. She worked as a marketing manager at Disney previously and is very keen to use her extensive experience to help AET's work and to 'support the cause' as she says. She enjoys horse riding in her free time come rain or shine.
Michele Vaginay is our new Programme Co-ordinator, based in our head office in London. She has a strong background in executive administration having worked for the Middlesex University and in the social services previously. Michele is also an excellent yoga instructor and looks after our posture as well as our calendars.
Nez Dharamshi is our new finance administrator. She gained a wealth of experience as a finance manager at Taylor Wimpey and if you owe money to us you are sure to hear from her soon. Nez loves travelling and lived in Dubai for 7 years.
We recently said goodbye to Sarah-Jane Critchley, who many of you will have met and who gave the AET 10 years of excellent service. Sarah-Jane has gone off to pursue her own enterprise and we wish her well. We are delighted to have recruited Lyn Byatt to replace Sarah-Jane as Programme Manager South – we can't wait for her to start in October.