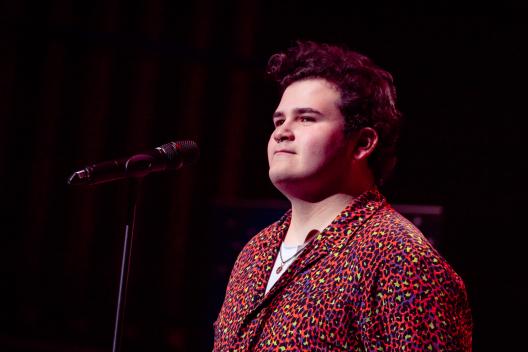 Charity celebrates following inclusive show
North East-based charity, Daisy Chain is celebrating following a sell-out night of entertainment for their inclusive show: the Autism's Got Talent Roadshow 2023, shining a light on autistic talent!
Estimated reading time: 2 minutes, 1 second
The show was attended by over 500 people at The Stockton Globe.
Daisy Chain teamed up with Anna Kennedy OBE to shine a spotlight on the talents of autistic people and featured spectacular performances including 'The Mind Mangler' comedy sketch, a non-speaking adult who loves to sing, and a 12-year-old dancer who was wheelchair bound until she was 9 and has battled to be accepted into a dance school.
CEO Neeraj Sharma said:
"The performances on the night were exceptional, and I'm immensely grateful for everyone who made it possible, including Anna Kennedy and Tees Valley Community Foundation.

The show gave autistic individuals the opportunity to have a platform to shine in an inclusive and supportive environment, and there wasn't a dry eye in the house as the audience was blown away by the extent of the talent. More money needs to be injected into the performing arts sector to create future events like this and make them part of the annual entertainment calendar."
Anna Kennedy OBE said:
"I'm so proud to once again have brought the Autism's Got Talent Roadshow to the North East. It means more than you can ever know since I was born in Middlesbrough.

As a charity supporting autistic children and adults, we aim to continue to build Autism's Got Talent year by year and we want all those involved to have fun, do what they love, make friends and just be themselves. This is one night that is all about the performers creating memories and saying – yes, I did it!"
Dylan, who showcased his amazing singing voice at the live show said:
"Autism's Got Talent was a phenomenal experience and I loved every second of it! I'm used to only ever singing to my Nana in the living room so the opportunity to perform on such a big stage in front of so many people was amazing.

Thank you to Daisy Chain and Anna Kennedy - you have made my dreams come true!"
Autism charity Anna Kennedy Online hosts Autism's Got Talent every year in London and has done for the last 12 years.
Thank you for sharing, Daisy Chain Team!
Daisy Chain is passionate about supporting autistic and neurodivergent children, young people, adults and families and shining a light on neurodivergent talent through its performing arts program. To find out more about the organisation's work visit www.daisychainproject.co.uk.