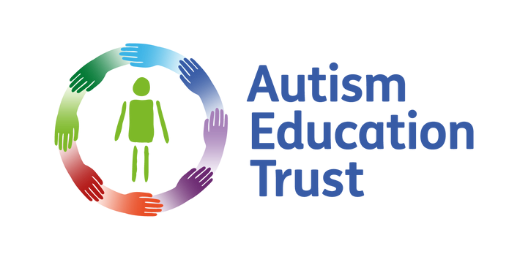 Find out about the development of our brand-new logo, designed by Sam Chown-Ahern, artist and member of the Autistic Young Experts panel (AET Young Persons Panel).
To celebrate the launch of our new website, updated materials and new training modules, we felt it was time to update our logo, too. We wanted our new identity to express everything we are proud of: our values, our growing organisation, our fantastic partnership of more than 100 dedicated organisations committed to the cause of autism education and, most importantly, the autistic children and young people at the heart of everything we do.
The designer
We asked Sam Chown-Ahern, artist and member of the Autistic Young Experts panel (AET Young Persons Panel), to create the new logo using her artistic talent, knowledge of the AET materials and unique perspective as an autistic young person. The creation of the logo was a collaborative process aided by feedback from graphic designers and the whole AET team.
The process
We started with different designs that Sam felt symbolised the values and strengths of the AET. The next step was for us, the AET team, to add our own ideas, comments and thoughts. We all felt that we should have a person in the middle of the logo symbolising the autistic child or young person. We also wanted the logo to express support and care, and the "team around the child" by adding the hand symbols. By joining up multiple hands in a circular shape we felt that the logo also expresses the AET partnership, communities of practice and the all the dedicated partners that make the AET so special. The colours in the logo symbolise neurodiversity and also refers back to the 8 principles of Good Autism Practice. 
Keeping the person in the centre green is a nod to our previous identity and provides a reassuring continuity between the new and the old logo. We also feel that the disconnected/disjointed person might resonate with many autistic people's experience of education and indeed the world around them.
We think that our very talented graphic designer, Aimee Dore, managed to translate Sam's original hand drawn concept into a striking and beautiful design.
Would you like to know what Sam, our designer, thinks of the logo?
Watch our interview below
The Autistic Young Experts Panel
You can find out who the Autistic Young Experts Panel are, what they do and the terms of reference for their role, on our AYE Panel page.