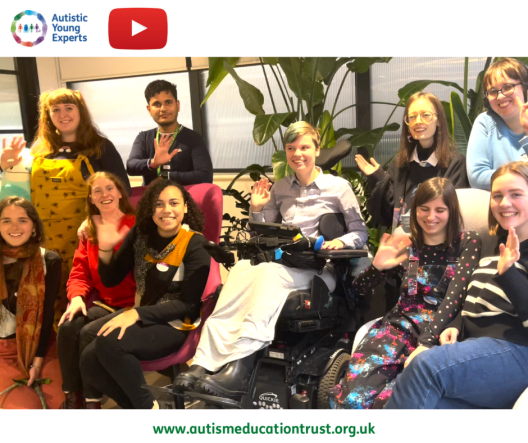 BREAKING NEWS: Autistic Young Experts Panel launch their NEW YouTube channel!
Young autistic people, education professionals and parents and carers now have access to exciting new video resources, as our Autistic Young Experts Panel launches their own YouTube channel to mark World Autism Acceptance Week 2023.  
Estimated reading time: 1 minute, 55 seconds.
The Autistic Young Experts Panel add their voices and life experiences to our AET projects and strategy and they have played a key role in highlighting the opinions of young autistic people since the AET launched in 2007.  
As well as sharing their experiences of exclusions and exam accommodations, members of the Young Experts Panel also co-chair conferences, speak at AET events, and share their valuable insights with film professionals. 
This brand-new YouTube channel has been created for the Panel's autistic and non-autistic peers and aims to increase awareness of autism by sharing first-hand, lived experiences.  
The videos promise to be entertaining, informative, and poignant in parts, and the group hopes they'll help to create a more accepting and inclusive society.  
Panel member Annabel explains: 
"Hopefully, someone will come across the videos and understand autism a bit better. As an autistic person, I have a presentation of autism that ought to be included in societal perceptions too". 
Ollie is also keen to create videos that promote a better understanding of autism: 
"I wanted to share my experiences to stop people telling me I don't look autistic! But seriously, autistic women are under-represented in media, and this seemed like a great chance to change that". 

We know that autistic pupils don't always get the help they need in the classroom.  
The Panel want to see a better future for other autistic children and young people, as well as provide a solid foundation for educators. 
By teaching their peers about autism and promoting the positive message that autism is a different, not deficient, way of experiencing the world the group's videos will equip potential teachers with the skills and understanding to offer effective support.  
Panel member, Alice explains why having the right support is so important: 
"I wanted to share my experiences as an autistic young person with learning difficulties and how being in the right educational setting allowed me to thrive."
Visit the Channel today to enjoy the first video releases, where the Panel discuss: Things I Wish People Knew About Autism. 
And please share, like and subscribe!