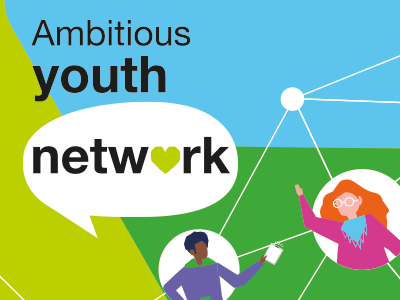 10 Mar 22
Introducing the Ambitious Youth Network: A Platform for Young People
Working in Partnership
Building relationships
We asked Abigail Odell, Digital Participation Officer, about the new platform for young autistic people: The Ambitious Youth Network. Ambitious About Autism has released an online community that welcomes 16-25-year-old autistic people across the nation to gain experience, skills and friends in a safe and fun environment.
What are the main uses of the platform?
The main uses of the Ambitious Youth Network include; the ability to sign up for paid opportunities, access to news and information, peer support session sign up, and an instant messaging service.
What are the paid opportunities?
The Youth Network regularly offers paid opportunities to its members. Youth Network opportunities are mainly centered around educating the public about autism and making life better for autistic people.
Opportunities include advising on toolkits and campaigns, developing presentations about autism awareness, taking part in advisory panel's as well as leading training sessions. Companies we have worked alongside in the past include The Postal Museum, Compare the Market, Marsh McLennan, NHS England and many more. Our opportunities are a great way to earn money as well as expand your knowledge and confidence.
Image

What are the peer support sessions?
Peer support sessions are held on Tuesday and Thursday evenings between 5:45-6:45 PM over Zoom. These sessions are a chance to meet new autistic young people across the country.
Sessions are a safe environment where you can stay within your comfort zone. There is no pressure to turn on your camera or microphone. You can choose to participate or just observe.
The sessions are led by Ambitious staff, trained in safeguarding, who you may contact at any point if you are uncomfortable or feel unsafe.
Every session has a different theme, past sessions have included arts and crafts, comedy night, DJ sessions, language lessons, and a monthly general knowledge quiz.
What news and information should I expect?
We offer regular updates on our successes of our young people, content of our peer supports, as well as signposting our network to other opportunities outside of Ambitious, like autism friendly museum openings, neurodiverse friendly job openings, surveys and campaigns.
How can I use the messaging service?
If you are over 18 you are able to use the instant messaging service on our platform. This means you are able to contact other members on the network, and help make new friends. Each member can make a profile explaining their special interests. If you have the same special interest as someone why not send them a message?
What do current users think?
"I really enjoy being able to be involved in a range of different opportunities that I want to be part of. I like that I am able to make a difference, learn more about other autistic young people and share my experiences as an autistic young person. I really enjoy the peer support sessions because socialising with young people around the same age as me, who I feel I can relate to is very important to me. I really enjoy the structure of the peer support sessions, I always enjoy myself, learn something new and I enjoy speaking with everyone."
"The thing I love most about the Youth Network is meeting such incredible people. Everyone has such an interesting and inspiring story! And everyone I have met has been kind, understanding, and has their own amazing talents and hobbies that make them THEM."
You can sign up for the Ambitious Youth Network here