Watch our brand-new education video celebrating autistic strengths and differences.
Why did we create this video?
At the AET, we believe that autism is a difference not a deficit. 
We want to promote wider understanding that autistic people have strengths and differences in three key areas of development. 
Keep in touch! Sign up for our newsletter to find out more...
Recognising and understanding these differences leads to better support being available for autistic children and young people in education. 
Key to this understanding is recognising that the autistic spectrum is not a single line from low to high; it is a complex combination of many overlapping characteristics.  
While there may be some shared characteristics, every autistic person is unique, with their own strengths, differences and needs. 
We champion a world where being different is something to be celebrated and where all autistic learners experience a positive education that supports their well-being.  
We'd love for you to do the same. 
Help us spread our 'Difference not Deficit' message by downloading our poster!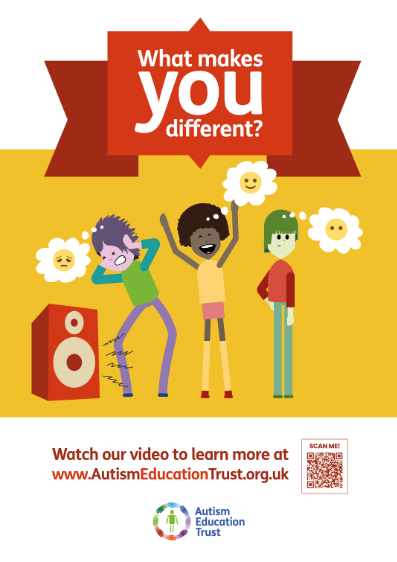 Click the button below to access a PDF version which you can download, print and put up in your education setting. 
Where can I find more videos from the Autism Education Trust? 
To hear more autistic voices, visit the brand-new YouTube channel hosted by our Autistic Young Experts Panel. 
The channel has been created for the Panel's autistic and non-autistic peers and aims to increase awareness of autism by sharing first-hand, lived experiences.    
The videos have already proven to be entertaining, informative, and poignant in parts, and the group hopes they'll help to create a more accepting and inclusive society.    
By teaching their peers about autism and promoting the positive message that autism is a different, not deficient, way of experiencing the world, the group's videos will equip potential teachers with the skills and understanding to offer effective support.  
Panel member Annabel explains: 
"Hopefully, someone will come across the videos and understand autism a bit better. As an autistic person, I have a presentation of autism that ought to be included in societal perceptions too". 
Watch, like and subscribe here: The Autistic Young Experts YouTube Channel 
Sign up for our value-packed newsletter to get education support, practical resources and autism news exclusively for the AET community.