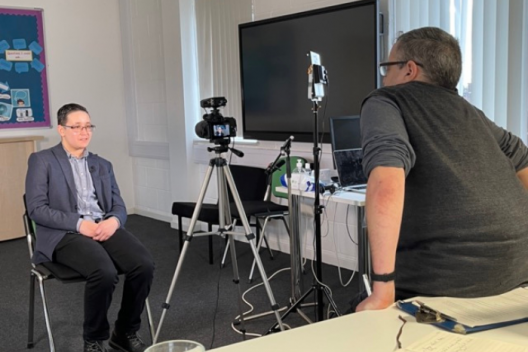 10 Mar 22
Meeting the Autism Education Trust Community - Springhallow
Working in Partnership
Building relationships
Meet the articulate and passionate learners and teachers who contributed to the AET's Post 16 Training Videos as part of the Post 16 Professional Development Programme.
We would like to say a massive thank you to the pupils and staff at Springhallow School Post 16 setting, Greenford, Middlesex, for inviting us into their Post 16 classrooms to talk about their educational experiences in both mainstream and specialist settings.
Emma Chantler, Content Manager, and Nicola Powell, Marketing Coordinator, visited the setting in February to interview the teachers and the autistic learners about Post 16 education, Good Autism Practice and support from Autism Education Trust.
Getting comfortable...
Their day started with meeting the group of staff and learners, taking a look around the setting and finding the perfect spot to set up the camera for filming, ensuring that our young autistic people were comfortable.
This student is accompanied by Jess the therapy dog, who will be making an appearance soon in some AET videos. One Post 16 learner said: 
"So this is Jess. I have Jess as a therapy dog for a, for a long time now. And she's really helped me get through some things like having, having tough lessons. Sometimes I got angry, but she's really helped me calm down when I needed it."
Image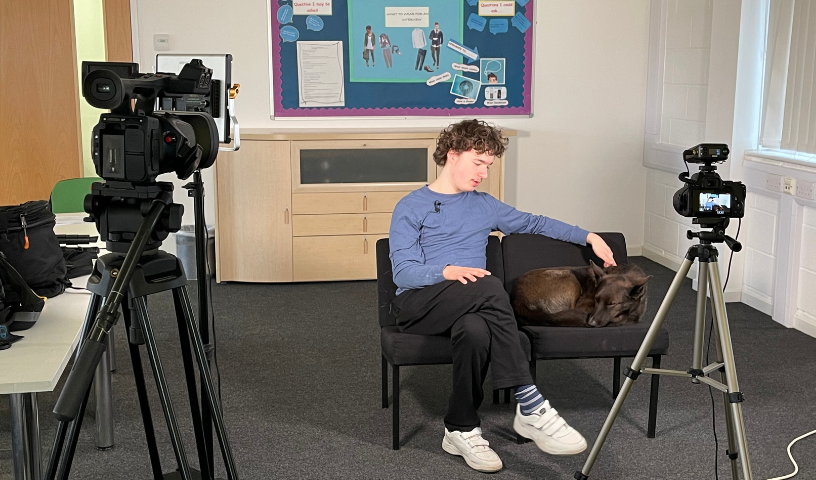 Nicola Powell said...
"The pupils were all so articulate and passionate about sharing their experiences of education as autistic learners. It's wonderful to be able to share their lived experiences in the programme we are developing for Post 16 professionals nationally."
Image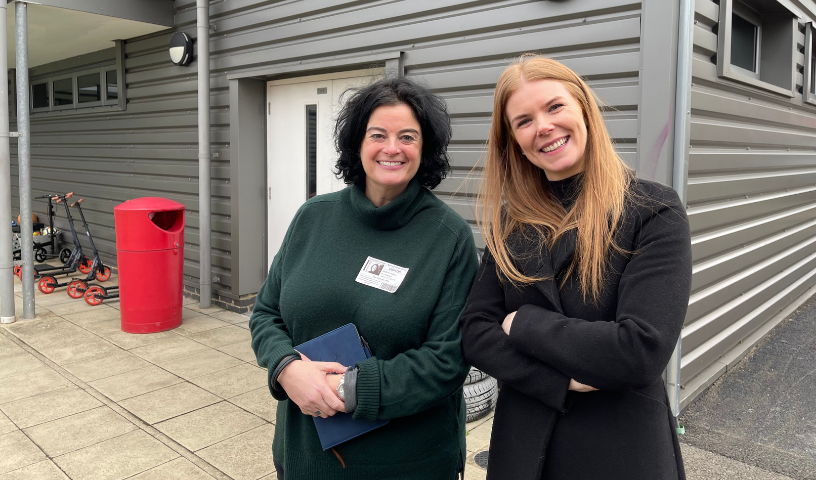 At the AET, we work in partnership with our network of autistic people, education professionals and parents/carers to produce our person-centred Autism Programme, and it was really special to go into the education sector in person to see the positive impact.
We are currently developing training videos for our Post 16 Professional Development Programme, so it's really important that we visit the education settings we are supporting to get the insight and expertise of our experts in the field: namely, the autistic learners and the education professionals who work with them!
Thank you all for being superstars and for sharing your voice and for contributing to the Autism Education Trust community!