See our helpful resources on exclusions in the links below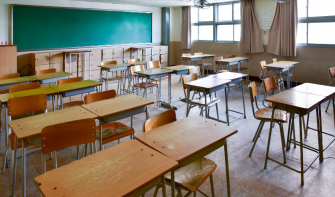 Autistic Children are particularly vulnerable to being excluded from school. Sometimes behaviour associated with their autism can be confused with disobedience because of a lack of awareness by both pupils and school staff. Autistic pupils trying to cope with the unstructured social aspects of school life can feel overwhelmed and become anxious and display distressed behaviours. Head teachers may feel that exclusion is the only solution in order to maintain the safety and well-being of other pupils. Indeed, it may be the case that a mainstream school is not the best setting for a child. However, distressed behaviour can be an indication of unmet needs and schools have a duty to make reasonable adjustments to policies and practices to ensure that autistic pupils also feel safe, confident and able to experience success.
The Department for Education is funding the School Exclusions service through the AET, to provide information and advice to parents, when an autistic child or young person is excluded from school, or is at risk of exclusion; and to support professionals in early intervention strategies and good practice to avoid the need for exclusions.
Steps to Avoid Exclusion of Autistic Pupils
Autistic children and young people can find school stressful.
It's important to remember that each autistic individual has their own unique set of needs and abilities.
This resource considers the differences autistic pupils can face in school and offers suggestions for ways in which they can be supported to avoid suspension or permanent exclusion.
School Stress and Anxiety – school refusal and impact on family life
Although they may appear to be coping at school, autistic young people can experience high levels of stress and anxiety.
In this resource, we look at school life and how that can impact autistic young people.
We talk about common reasons for increased stress and anxiety and offer strategies to overcome barriers to inclusion.
Successful Reintegration of Autistic Pupils Following School Exclusion
In this resource, we talk about the impact of suspension on both the pupil and the school.
We offer suggestions and practical strategies to prepare for an autistic pupil's reintegration following suspension.
Families may also be interested in this information to reassure themselves that their child is being fully supported following a suspension.
School Exclusions: A Guide for Parents
A guide to help parents navigate equality law, their rights and their entitlements when their autistic child is excluded or at risk of exclusion from school.
Exclusion: A Guide to Help Governing Boards
A guide to help governing boards comply with equality law when considering a decision to exclude an autistic pupil.
This resource outlines the legal requirements of the Equality Act 2010 for schools in relation to the exclusion of disabled pupils.
The examples given relate specifically to autistic pupils and are intended to help schools avoid disability discrimination claims.
You can find more information on exclusions below:
Our partner, the National Autistic Society, offers up-to-date advice on exclusions from school, college and university in: